Learning to Trust the Journey - Four Days on the Schooner J&E Riggin
Learning to Trust the Journey - Four Days on the Schooner J&E Riggin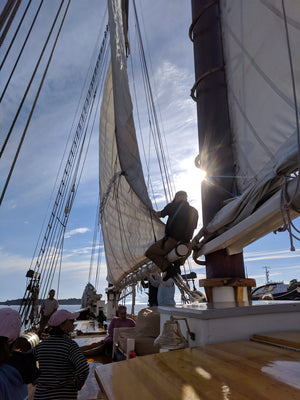 The J&E Riggin in her home port at Rockland, Maine, shortly before we boarded.
As many of you know, I was aboard the
Schooner J&E Riggin
for four days last week as an organizer and facilitator of
207 Creative
's Get Hooked at Sea event. I am sure we'll do a blog post for the 207 Creatives website or Facebook page on the trip as a hooking retreat and workshop, however, this post is about my personal experiences and insights. This was my first time on a large sailing vessel, seeing my beloved Maine from an entirely different vantage point and I can honestly say I am changed. This post is about that. A bit about the J&E Riggin... The J&E Riggin is a two masted schooner, 89 feet long (not including the bowsprit), over 20 feet wide, built in New Jersey in 1927 as an oyster harvesting boat on the Delaware Bay. For its complete history you can go to the beautiful website its owners, husband and wife co-captains Jon Finger and Annie Mahle, have lovingly put together at
www.mainewindjammer.com
. One of the most striking things about this schooner is how immaculately restored and maintained it is, in incredibly authentic condition. It does not have onboard power save for the sails. When becalmed or when in need of maneuvering in the harbors, it is propelled by a small yawl boat Captain Jon built by hand himself. The yawl boat is a work of art in itself. When it's time for the anchor to be raised, no auxiliary power is employed. It is raised by the muscle of around four crew and/or volunteers with a gear and lever apparatus. I tried it. It's hard work. At night, the boat is lit mostly by kerosene lantern. All of Captain/Chef Annie's world class meals are prepared in a tiny galley kitchen on a wood burning cook stove. Annie is a Culinary Institute of America graduate, cook book author, and celebrity chef (she may demur at that last thing, but let's face it - she is) who has let none of this affect her completely down to earth, generous, and kind demeanor. The food is...incredible. Captain Jon, aside from being the captain of our journey, is also an accomplished watercolor artist, musician, and more. Jon and Annie are the devoted parents of two daughters who were raised, in part, on the Riggin. Back at home, they keep bees and chickens, and they garden. Quite a bit of the farm fresh ingredients that made their way in to our meals were from Jon and Annie's homestead. The J&E Riggin as she is today is the result of loving stewardship that respects her age, history, and heritage and my respect for Captains Jon and Annie and their equally wonderful crew of five is boundless. These are hard working people who make their guests not only feel welcome, but feel as though they become a part of the J&E Riggin family in a few short days.
Chef Annie explaining the fine art of eating oysters to the uninitiated. These were, by the way, the very best, sweetest, freshest oysters I've ever eaten.
We see a lot of messages in our social media feeds that go something like this: "Trust the journey." "It's not the destination that matters, it's the road there." "Live in the present, the future is not guaranteed." As a fiber art teacher I also often encourage my students to enjoy the process and remain open to the outcome that results, rather than holding an expectation concretely during the making. At the
Squam Art Workshops
, where I taught for two years, "process over product" was a mantra. Indeed, on our Get Hooked at Sea retreat aboard the Riggin, not a single one of us finished our lovely project guided by teacher Maggie Bonanomi, but we were fine with that. It was about the process, the making, the camaraderie, and we will share our final products with one another over the coming months. On the J&E Riggin, this concept becomes very literal. One morning I asked Captain Jon where we were going that day. He said, "I don't know!" And he meant it. The J&E Riggin's usual sailing territory for guests is in Maine's Midcoast Penobscot Bay, approximately between Boothbay and the Acadia area. Where she sails on any given day is determined by the wind and weather. Every trip leaves from Rockland, which, as an aside, is my favorite town in Maine. Rockland is central to those two approximate sailing boundaries and the weather will determine which way Captain Jon takes the Riggin. It is a "sail to nowhere" and yet, it is very much a sail to somewhere. For me, that somewhere was a place of revelation. One comical revelation was that, in spite of not being able to ride in the back seat of a car without turning green, I can be a passenger on a schooner in open water and not feel a single twinge of seasickness. My bag was packed with a tub of crystallized ginger and two boxes of Dramamine but neither proved necessary. Other revelations were more serious. One was how very badly I had needed a trip just like this one, a trip with no set destination and with very limited connection to the news, the internet, and the demands of my every day business life. Another was my need to spend time with creative and energetic people. This trip was shared with creative people all around: captains, crew, and guests, who were pursuing something meaningful to them upon which they each made their individual imprints. The crew, four young men in their twenties and one woman around my age, I believe, were phenomenal examples of extremely gifted people sharing their gifts in ways most people only dream of. Captains Annie and Jon were unwittingly providing to me an example of sincere and exemplary hospitality that I know I will use as a reference point when we open the Parris House to retreat and workshop guests in 2020. They refer to their relationship with the J&E Riggin as one of stewardship, not ownership, which resonates with me as we have never claimed ownership of the 200 year old Parris House either. You can only steward these great old entities while it is your time. They predate and outlive us if all goes well. Related was the revelation of just how much I require freedom and space over my life and over my time. There is a tremendous feeling of freedom when you are a guest on a schooner in the big Penobscot Bay. I can only speak as a guest because I was well aware of the constraints the captains and crew were under as they make sure every detail of the trip is attended to for us. As a guest, however, I was able to make the mind blowing observations regarding the power of the wind, the vastness of the ocean (especially when it looks so big, yet we'd not even left the bay), and how small my favorite landmarks looked along the shore. My perspective on everything was turned upside down/inside out when I was looking at places I'd only seen from land from out on the water. I realized that there are so many things I've never seen before and will probably never see in this lifetime, and with that realization came the knowledge that I had better choose very carefully how I spend my remaining years. I booked another trip on the Riggin for my husband and myself in 2019 halfway through our voyage.
Fog hanging over the harbor off Warren Island State Park
And then there is just the overall awareness that we do not have to, in fact usually we can not, know our destination for much of our journey in this life. Our daily journeys, led by Captain Jon, always ended in some beautiful harbor, in fair weather or foul, expected or unexpected, with limited control over the destination because of zero control over the weather. On the journey, the captain controls what he can in the context of what he can't. Sometimes the sailing is relatively blind. On the first day under sail we were treated to a fog bank. We could see it on the horizon when we set out and within about an hour we were engulfed in it. Visibility was low. The J&E Riggin's fog signal rang out in to the bay. Sometimes we could see other vessels just within our visible range, looking like ghost ships. Other vessels a little further off would have been invisible. The J&E Riggin is equipped with modern GPS, radar, and radio communication. It is also equipped with an experienced captain. Therefore, we were never in danger although
we
could not see.
It is often human nature to fear when sailing blind, when we don't know what's next, but it is actually the essential nature of our lives. Uncertainty of outcome is a given as long as we can not bend time to see our futures. What choice do we have when rising in the morning but to answer the question, "Where are we going today?" with "I don't know!" Don't get me wrong. I'm a list maker, a planner. I chart out every day, every week, every to-do list. I make plans and try to follow them. I act with intention on what I can when I can if not doing so would lead to perceived disaster. Examples are how I conduct my dearest relationships, my health, my business, my class preparations, my writing, my home. But those four days as a guest aboard the J&E Riggin persuaded me to loosen the parameters on my life and make time and space for more experiences like that one. The world will not stop turning if I can't answer an email within fifteen minutes. Spending half a day hiking my favorite mountains here in Western Maine might inspire more art pieces and workshop ideas than working away at my desk on something seemingly important but with, in the long run, a weaker return on time invested. On the Riggin there is a truly beautiful efficiency to everything, and I do mean beautiful. Nothing is out of place, everything is immaculate, all details and contingencies are planned for, and the result is pure elegance of experience, and yet...uncertainty in destination is not only acknowledged, it is celebrated. What an example for living. Here is a slideshow of our trip for your enjoyment. If you would like to book the trip of a lifetime on the Schooner J&E Riggin go to the website at
www.mainewindjammer.com
. Reservations for the 2019 season are being taken now. For those wondering if we're working on another Get Hooked at Sea trip, the answer is "Yes! We are!" So please watch for posts about that as we figure out the details and timing.