A Sneak Peek at the First Hookers Circle Project and How You Can Join Us!
A Sneak Peek at the First Hookers Circle Project and How You Can Join Us!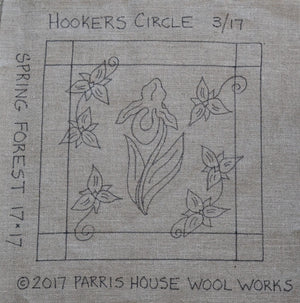 Not everyone can join us in the Maine studio to hook together on Tuesdays. In thinking about how we could create an online community to bring people from all over the country (and possibly the world) together in a common project, I came up with the
Parris House Hookers Circle.
As some of you may know, we shipped the first pattern for the Parris House Hookers Circle in March of this year. If you're not aware of it, here's how it works. Every quarter (March, June, September, December) I will send out a new surprise pattern or kit (you choose!). You can pay all at once up front and receive a 5% discount on your subscription, or you can pay in installments. The details are explained on the shop listing
HERE.
So far, we have had three brave hookers sign up, and two of them, Pam Congdon Springer and Carolyn Cooke, have been participating regularly on our Hookers Circle closed Facebook group. They signed up without having any sneak peek at all at what they might receive, but lucky you, you're about to get a look at the first pattern we shipped in March and what two of these lovely women did with it. Keep in mind that they chose the pattern-only option, not a kit with cut or uncut wool, so the color planning was all theirs.
When I set about designing a pattern for the March shipment, we were in the midst of some serious winter storms with spring nowhere in sight. I thought it might be nice to do a pattern inspired by some of the woodland plants we see here in Maine in spring and then in to the summer, so I chose lady slippers and trillium. On any hike in the woods of Maine you are pretty sure to see trillium, but the lady slippers are rarer, so much so that it is literally illegal to pick them. I'm not sure why anyone would, but the state actually protects them as a relatively rare plant.
So here's what my hookers circle members got in the mail...
Each member received an image of the original sketch as a jumping off point for their own color planning and hooking.
Each member also received a pattern drawn on the grain on high quality linen with 4" edges all around.
They also received a special little extra in their packages, which for March was a bar of our handcrafted soap.
It took Pam and Carolyn no time at all to get started on their projects, but they posted progress pics throughout their hooking that were fun to see. We were able to bat ideas around as the projects developed and offer constructive opinions and kudos on the work. Another benefit of joining Hookers Circle is that mutual support as the projects unfold.
So, what did the finished projects look like? Of the three members, I have finished pics of two, and permission to post so...without further ado...
This is Carolyn's finished rug. She chose unconventional colors and a beautiful whip stitched binding that coordinates with the primary background. Her use of purple on the stems of the flowers, and then echoing it in the corners of the design, I thought was brilliant. I think she achieved a really beautiful result here, thinking outside the box.
This is Pam's finished wall hanging. I absolutely loved the way she incorporated a natural object that you would absolutely find on a walk in the woods as part of the hanging apparatus. She used a coordinating button flaps to attach to the twig and then set the whole thing off with the proddy fringe along the bottom. I think her color choices are lovely. This is another spectacular result I would never have imagined when I was sketching the pattern.
So, this is our fledgling start to the Hookers Circle, a group I hope to grow to at least one hundred members. No, I'm not kidding. I really want to get Hookers Circle to at least one hundred members. I know that that would require employing several people for about a week or so a quarter to draw, assemble, and ship the kits, but I think it would create a big version of the camaraderie that is already developing on our Hookers Circle Facebook group.
If you like this pattern, it will be available for general purchase one year from when it was released, so March 2018. Hookers Circle members enjoy exclusive access to every pattern for at least one year. Members can join at any point in the year and subscriptions will run on a rolling basis. Want to join us in time for the June shipment? Join here.
I hope you've enjoyed this sneak peek at what's been happening in the Parris House Hookers Circle. I think spring is finally arriving here in Maine. There's still snow on the ground, but I think its time is short, and I will have to start thinking about warmer days and summer sun to inspire the June pattern and kit.
Happy hooking! - Beth