First Belfast Hook In Sponsored by 207 Creatives - Our Heartfelt Thanks to All
First Belfast Hook In Sponsored by 207 Creatives - Our Heartfelt Thanks to All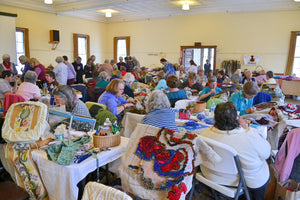 After much preparation and anticipation, the first Belfast Hook In sponsored by 207 Creatives went off on Saturday, April 22nd at the
First Church of Belfast
, Belfast, Maine. We'd like to thank everyone who came out to this first 207 Creatives event and everyone who assisted in what turned out to be a very nice day. I took what photos I could of the day, but since I was an organizer and a vendor, I have to admit the photos I got are limited. (Note to self: assign photography to a helper next time.) I did, however, get quite a few rug show photos by taking a quick block of time to record the
amazing
work of our attendees. For those who were not in attendance, 207 Creatives is the collaborative effort of Connie Fletcher of
Seven Gables Designs
, Ellen Marshall of
Two Cats and Dog Hooking,
and myself. Here they are at their respective tables at the hook in! (To my knowledge, there is no picture of me from the day...which is ok.)
First and foremost, we want to thank our 120 guests who made the day a success, provided us with useful feedback via their comment cards, provided rugs for truly one of the most impressive hook in rug shows I have ever seen, and who came from as far away as Canada to join us for this special event! The tradition of the hook in is so important to our craft, and our attendees came out to support this new event with enthusiasm, creativity, and good ideas for future events. Thank you, thank you!
Our special guest speaker was artist and teacher
Rose Ann Hunter
, who was accompanied by her daughter Kristin who helped immensely with the projector for Rose Ann's presentation. Rose Ann's table was continually visited by inquisitive guests looking at her work, asking questions, seeking demonstrations, and learning new techniques. We are so thankful and happy that Rose Ann agreed to join us and share her expertise with all.
As an extra service we invited Neill Peterson, a knife and scissors sharpener, to provide sharpening for our well used scissors. I did not get a chance to take mine over to him, but it seems as though he was busy during the entire event helping to keep everyone's tools in tip top shape.
We have so many people to thank for a successful day. Shops in Belfast,
Heavenly Socks Yarns
and
Fiddlehead Artisan Supply
offered discounts to our attendees. Local lodging establishments offering special packages to our guests were the
Yankee Clipper Motel
,
Belfast Bay Inn
, and
Loons Call Maine
. Our outstanding food was provided by
For the Love of Food and Drink
, just as it is at the
Paris Hill Hook In
. These folks prepare the food fresh right there in the venue kitchen and they do it with smiles on the entire time. I'm not this cheerful in my own kitchen when I'm
not
serving 120 guests.
More helpers included Mike Fletcher and Michelle Silveira, Connie's husband and daughter respectively, who did anything and everything to help, as well as Roberta McCusker, friend and hooker extraordinaire who came over from New Hampshire. I do not have a picture of Mike, but I do have Michelle and Roberta here.
Very special thanks also to Edna Olmstead, who goes above and beyond in service to everything she commits to. Edna ran our rug show and is also an extremely prolific and accomplished hooker in her own right. Also, those gorgeous fluffy frame covers you buy from Parris House Wool Works and other lovely shops/vendors in the area? Edna makes those. I personally have three or four now, because I can't stop myself from collecting them.
As I said, the rug show was absolutely stunning. I can not remember the last time I saw a hook in rug show of this quality and again, I thank our attendees for bringing in their beautiful rugs. The variety of styles, techniques, and subject matter was mind boggling. I have assembled my rug show pictures in to a click through gallery below. It goes without saying, but I'm going to say it anyway: these rugs are the property of their makers, the designs are the property of their designers. No image here may be copied for a "new" design without the express permission of the designer. Time constraints did not permit me to record the makers and designers of each of these rugs, however, IF there is a design that you see and would like to have the pattern for, I will do whatever I can to research the rug to determine its rightful owner and designer for you.
At 207 Creatives we are already brainstorming future events, so stay tuned for more news on those. Additionally, there is still space left at the Fifth Annual Paris Hill Hook In sponsored by Parris House Wool Works, scheduled for November 4th, 2017, but it's about half full already. If that is an event you are interested in, click HERE for more information and to sign up. If you'd like to stay on top of everything happening here at Parris House Wool Works, by all means also sign up for our newsletter, The Street Corner, using the sign up box at the bottom of this page. Thank you, happy hooking, and we hope to see you at future celebrations of our craft!