Going to the Dogs - A Rug Story
Going to the Dogs - A Rug Story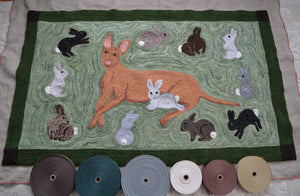 Many who follow our social media know that for the past five months I've been working on a 3' x 5' commissioned rug, however, you have only in the past week seen even a peek at some small portion of it. I am happy to say that the rug is now in its new home, its owner seems very pleased with it, and I have permission to tell its story - with pictures!
Last fall I set up my tent at the Sharon Springs Harvest Festival in Sharon Springs, NY, home of Beekman 1802, and I met more wonderful people than I can count. One of these was Dr. Stephen Sipperly, who, upon seeing the hooked rugs on display asked if I might be able to do a custom rug of his beloved dogs. I love hooking animals so I was immediately intrigued by his request, and even moreso when he mentioned that they were Pharaoh Hounds. I had never heard of this breed of dog, so the challenge was on.
A few weeks later, Stephen sent me some photos of his dogs.
When I opened the email, my immediate reaction was "Awwwwwwwww." Although I had never seen a Pharaoh Hound, I had a very sweet Doberman when I was in my 20s. She had the same giant ears, sleek body, and sympathetic expression. And, I just love dogs anyway, even if our current best friend is a considerably less graceful (but impossibly adorable) Welsh Corgi.
Here's the important thing about this story, though; the main point, in fact. Stephen came to me with an almost fully formed vision of what he wanted his rug to look like. The overall vision changed very little in the course of creating this piece. He knew he wanted the dog in the center of a folk art style design, and, because Pharaoh Hounds are traditionally used in rabbit hunting, he wanted rabbits encircling the center dog. It was also Stephen's idea to have the element we came to refer to as "defiant bunny" snuggled up against the Hound's midsection looking ever so pleased with itself. Honestly, I can take almost no credit for this design. This rug was designed by Stephen, through my hands, my sketch, my pattern, my hand dyes, my hooking, but I was more the conduit. This is his rug.
So here's the process, mostly in pictures. Here are the first through third draft sketches. As you will see in the final piece, we changed defiant bunny a little bit (again, Stephen's idea).
The original thinking was to have jewel tone color blocks around the border. They were three inch blocks, but on much later consultation, we didn't go with those. Once Stephen approved the sketch, I made the linen pattern. I am realizing right now that I did not photograph the pattern before I started hooking it! I think I was just very anxious to get started.
I thought it would be easiest to start in on the bunnies. Each bunny took at least an hour to hook, depending on how much I wanted to tweak and play with it. Here are some bunny-under-construction pics.
It was important to me that no two bunnies be the same, so I chose a variety of browns, blacks, grays, and whites for them. On consultation with Stephen, we decided to make defiant bunny white, so as to stand out against the red of the Pharaoh Hound.
Speaking of that red, let's face it, you can't buy Pharaoh Hound red off the bolt. This is where the dye pots had to come in. I sent Stephen this photo and asked him to choose.
Try to ignore the fact that I clearly drew the blocks incorrectly the first time on the far right border. Remember, friends, measure a bazillion times, draw once.
Stephen made his color choices and then we had to talk about the background. We knew we wanted it to look like a grassy background, so I sent Stephen a variety of wool choices, both hand dyed and off the bolt. He wisely chose a mottled hand dye, which gave the finished piece variety and motion.
So, um...this was going to be a LOT of pot dyeing...
Some of you will recall the scalding drama associated with this dye session, but it was all worth it in the end. Time to hook the background! I checked in with Stephen when the background was going in to make sure I was achieving the effect he was looking for. The glints in the dog's eyes are the only non-wool part of the piece. They are white embroidery floss.
This background was way more time consuming than I ever imagined it was going to be. I still can't quite get over how many hours went in to just that part of the project. There's more background on this design than in many "traditional" hooked rugs. Generally, when designing hooked rugs we look to minimize open background, which was one of the reasons I thought the mottled wool was such a good choice. It added interest that would simply not be there over large expanses of green.
Background in, now what to do with the border? The original thought for this rug was a jewel tone block border, but both Stephen and I thought that would be too much and detract from the main rug, as did the Tuesday group hookers who were very helpful in offering opinions during this process. So I sent Stephen what would have been for most customers a pretty overwhelming variety of possibilities in these photos. And...he chose one not even pictured here, but perfect.
Stephen chose to use the forest green solid border, but with deep brown corners. This was just the right solution. So I started hooking away on it. Hooking straightaways goes a lot faster than hooking motion, so this part of the project didn't take too long.
One more decision point for Stephen. How to bind? Because of the way this rug was potentially going to be used, because of Stephen's furry friends, and because I thought the border was perfect as is and should have an invisible-from-the-front binding. we went with tape binding. Stephen chose the light brown. Did I bind this rug myself? Not this time. Consummate hooking artisan and binder-in-a-pinch Edna Olmstead is to be thanked for doing a wonderful and amazingly fast job of putting the binding on this one for me.
But before handing it off to Edna, there was the serging and steaming...
Edna's binding is neat as a pin...
The finished rug.
Stephen received this rug very late last night, after I had gone to bed. He's a doctor, after all, and has long hours. I had seen the UPS tracking for it show delivered yesterday afternoon and whenever I've sent a rug out I nervously await the customer's reaction. Having not gotten any communication from Stephen prior to my own bedtime, I actually dreamed about this rug all night, which is probably not that uncommon for artisans (someone please tell me it isn't!). I awoke this morning to a lovely email from Stephen telling me how pleased he was with the piece, which is all I needed to hear. That IS the goal, after all.
Making custom pieces, art pieces of my own imagination, and teaching are the things I love best about what I do. This particular project was a real joy because I felt that I had the opportunity to be the rug making hands for Stephen's vivid vision and imagination. There is something very satisfying about a collaboration with a customer that results in a piece that reflects who that person is and what he loves. So while at this rug's inception the art pencil was in my hand (as was the eraser...lots of erasing...), this rug is truly designed by Stephen Sipperly, hooked by Elizabeth Miller/Parris House Wool Works. I think we made a great team.
If you have an idea, a vision, an event to commemorate, a beloved pet, or anything else that you would like to see come alive in a hooked decor piece (rug, pillow, wall hanging, table runner, chair pads, you name it), by all means get in touch with me. You now have an idea of how the process works and how much communication takes place. It's fun and rewarding and the final result is an heirloom made to last a century or more.
A thousand thanks to Stephen for granting permission to share this project on our page and for being so great to work with.
Happy imagining and happy hooking! - Beth