On the Creativity of Mothers, in Particular, My Mother
On the Creativity of Mothers, in Particular, My Mother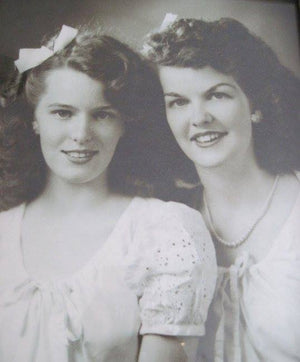 My mother, Elizabeth Barnard Colangelo, on the left, and her sister, Dorothy Barnard Schaeffer on the right. My aunt is gloriously still alive at 91 years.
This morning on my Facebook feed I saw a post about Mother's Day by author and speaker
Cheryl Strayed
. Here's part of what she said: "I know it's a holiday that will change in meaning to you over time, even if it has not yet occurred to you that it will. Whatever it is, I want to say I know it's there and it's real and it's true because it's YOURS." She was referencing the fact that for many, Mother's Day comes with conflicted emotions. There are people who no longer have living mothers, people whose relationships with their mothers were difficult. There are mothers who have had the utterly unthinkable happen who have lost a child or children. Mother's Day is not always exactly a series of picture perfect Hallmark moments, and yet, in some families, it is. To be completely honest, I am one of the lucky ones. Mother's Day, for me, is largely about joy and celebration. The greatest honor I have or ever will know is being Mom to my now adult sons Robert, James, Peter, and Paul. My relationship with my own mother was not perfect all of the time, but there is no question that we loved each other and I miss her. I can hardly fathom that she's been gone five years already. My aunt (seen above) remains an incredible inspiration and mother figure to me (which reminds me, I very much need to call her and check in), and I have a very caring mother-in-law as well. I had grandmothers who, while
very
different from one another, showed me how much I was valued by them every time we were together. So, I just wanted to start off with the acknowledgement that this holiday is not the same for everyone, and that it's ok for our Mother's Day not to look like an episode of The Waltons. In my case, my sons are all far away this first empty nest year, my mother is in the afterlife, and my mother-in-law is in NJ recuperating from an injury. I also have a big show coming up at the end of this week so I'm thinking this year Mother's Day is going to be another work day for me. And that's ok too. OK.... Mothers and creativity. My own mother, in my view, was an almost completely unrecognized artist. I'd seen some of my mother's art as I was growing up. When she was young she'd do what can only be described as fabulous pencil or pen sketches of 1940s young women with cute hairstyles and sassy expressions. In my grandmother's lake cottage in Maine there was an oil painting that my mother had done of the family's little black terrier, Susie, capturing what I imagined was Susie's pixie personality. When I was a child my mother would either write or just ad lib stories for me. She wrote the occasional poetry. She had beautiful penmanship, which she passed along to me. When I'm not in a big hurry scrawling this or that for work my handwriting is pretty great, and perhaps now archaic. At any rate, I get compliments on it. Before rheumatoid arthritis took the craft away from her, my mother liked to do needlepoint. Long before that she was knitting intricate cabled sweaters for my father, with leather patches on the elbows, and making warm wool socks for him as well. When my siblings were younger she made clothes for them. She made my First Communion dress too, ornamenting it with a little floral ribbon at the bodice. My mother called my attention to great artists, both by exposing me to their work directly and by less conventional means. For example, growing up we had big orange tabby cats named Michelangelo, Monet, Renoir, and Rembrandt. I'm not kidding. The practice of naming cats after greatness moved down a generation when my boys named a couple of ours Lord Nelson (she was female...) and Nikola Tesla. When I was a child and teenager I had paints, crayons, art tablets, pencils, and, most memorably, pastels and fixative, all that my mother had provided for me. I've still got a yearning to go back to pastels, but that's going to have to wait a little bit. My mother introduced me to the Big Bands, to Fats Waller, flutists Jean Pierre Rampal and James Galway, took me to see Ain't Misbehavin' in Philadelphia, and toted me on "the Lindenwold" in NJ to the then Philadelphia College of the Performing Arts when I was a teenager for conservatory lessons in clarinet. She also paid the way of a neighbor's son who also showed promise in music. In some ways, my mother was the promoter and patron of the arts within the family. I didn't properly appreciate any of this as a young person. I truly didn't. And I think I know at least one reason why, aside from just being too young, too distracted by other things, and too unbalanced as a person myself. My mother didn't really chase her own artistic inclinations in any serious or consistent way. There are a lot of reasons for this, that are way too personal and also beyond the scope of this post, but my mother left this earth with so much of that creativity still inside of her. And I think she feared that I would do the same. At the time my mother died, I was still working full time in real estate and she was still after to me to "pick up your instruments again." I still haven't picked up my instruments. Maybe because I know what a cacophony of terrible sounds would result until I got my act together again. "Rusty" wouldn't even begin to describe my current musical ability, although I sometimes look at the dust collecting piano in my hallway and consider the possibilities. No. After my mother died, I picked up a hook instead, and most of you know what has happened since, which is not even scratching the surface of where I want to go in the craft. Most of the ideas I have for rugs or art pieces are still just that - ideas. She didn't live to see me take this creative turn, but I think she'd be pleased by it. I think she'd also apply her extremely blunt manner of opining to my desire to shift the art aspect to front and center, move the business and retailing end to the back to play a supporting role where it belongs, and get on with making the things that only I can make. Were I to ask her what people might think if I had to audacity to flip those two around the way I might flip my bee boxes when one was too full and the other too empty, she would say, "To hell with what people think!" And, although my mother did not always live by that admonition herself, in truth, she did not even always apply that to our lives either, she did say it to me more than once in my life. So what does this all mean on the general topic of the creativity of mothers? Well, think about it. Think about the mothers you have known, maybe yours, maybe someone else's. How did these women show us the way? How were they
able
to? For some women, especially those of a certain age, the free pursuit of creativity has not been an easy option, if an option at all - not from a social acceptability perspective, not from a financial standpoint in some cases, not from a time availability standpoint. It's not always easy to get the creative flow happening when you're playing every role there is to play in a family setting and then some. But for many mothers, creativity leaks out of the cracks and crevices of their lives anyway... in that amazing mural in the baby's room... in that little illustrated story made for a sick child... in that wildly creative birthday cake and all those party favors... in the baby blanket made for the neighbor's first child... in the poems we find tucked away in the dresser after they're gone. Most people who follow this blog are creatives of some kind. This Mother's Day I hope you will think about the women in your lives, be they your mothers by DNA, by adoption, or just by mutual choice, who showed you a way to creativity. Maybe they are or were literal art and craft mentors. I have those and am so grateful for them. But maybe they were also women who "just" showed us the way in the little things, the almost expected things, that we barely stop to notice or think of as art or artisanship. I would love to hear your stories in the comment thread. Happy Mother's Day and happy hooking. - Beth
One of my very early designs. I'd been to Popham Beach, Maine not that long after my mother's passing and noticed the beach roses in a way I'd never really seen them before.