It's Time to Sign Up for Get Hooked at Sea 5!
It's Time to Sign Up for Get Hooked at Sea 5!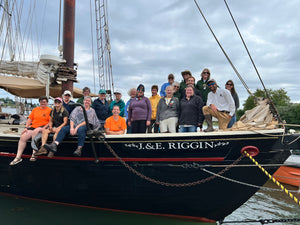 Get Hooked at Sea 5 is OPEN for registration with Rebecca Martin of StoryTeller Wool!
About Rebecca and our onboard workshop:
Rebecca Martin is a passionate fiber artist and educator based in Longmont, Colorado. Her studio is filled with all things wool, however rug hooking, both punch needle and traditional, take center stage. She is a certified Oxford Punch Needle Rug Hooking Instructor and in the process of becoming a McGown Certified Teacher for traditional rug hooking. 
Rebecca's creative work and articles have been published in Rug Hooking Magazine and the ATHA magazine. She teaches locally and online and has taught at both the ATHA biennial and the Sauder Village Rug Week.
Online lectures for guilds and Rug Hooking Magazine have been an enjoyable way for her to expand her teaching. When not hooking, teaching, or writing, Rebecca can be found hovering over her dye pots, creating rug yarn for her company StoryTeller Wool.
She has prepared an exciting workshop for us, Where the Wind Blows – Embracing the Unexpected in Our Art by Experimenting with Different Tools and Techniques.  This experience will include both traditional rug hooking and the option to punch in combination, along with other creative and visually impactful techniques.
There is comfort and security in the known, the planned, the predictable. We see this in our creative lives as we reach for the same tool, favorite colors and materials, and employ known and practiced techniques.  For the most part this works for us, so we carry on with the familiar, but this trip isn't about the familiar, so let us embrace that in our art as well. 
When you board the J&E Riggin you are embarking on the unexpected.  The daily destinations are dictated by the wind direction.  Your clothing choices are influenced by the weather and can change throughout the day.  There are expected elements, like a place to sleep and regular meals, but all delightfully unexpected – you are falling asleep in a berth on a 1920s schooner, you are dining on the beach.
As we sail and experience Maine we will explore rug hooking in a new way, with no set destination.  Our familiar hooks and wool strips will sail with us, but so will punch needles and yarn. Proddy and quillies will be embraced as we see what creative combinations we can create when we open ourselves to the unexpected.  This experience is open to all, seasoned rug hookers and those brand new to the art.  Let's see where the wind blows.
The well-loved J. & E. Riggin is a beautiful, historic, two-masted schooner that has been rebuilt to accommodate guests on overnight adventures. She was built in 1927 as an oyster dredger for Charles Riggin in Dorchester, New Jersey and is one of a very few vessels of this kind that still sail today. Her name, J. & E., comes from the names of Mr. Riggin's two sons, Jacob and Edward. This special windjammer has enjoyed the reputation of being able and fast and lays claim to having won the only official oyster schooner race ever held in 1929 on the Delaware Bay. After being rebuilt and re-rigged as a passenger vessel, the Riggin has sailed Penobscot Bay since 1977. She was designated a National Historic Landmark in 1991. - from the J&E Riggin website
She is now captained by husband and wife team Justin Schaefer and Joceyln Schmidt.
Our trip includes:
Ten gourmet meals cooked by a professional chef on the wood burning stove, including a grand all-you-can-eat lobster bake on a beautiful Maine island. Coffee, tea, and most often snacks are available all day in the galley. 

Special dietary needs are accommodated too!
Four nights aboard the National Historic Landmark Schooner J&E Riggin, sailing Penobscot Bay during the day, island hopping, and more! And no, 

there is NO sea sickness in these protected waters

. Feel free to ask us more about this.
Inspiring instruction with Rebecca Martin of StoryTeller Wool. Rebecca's bio and a class description can be found here: 

www.207creatives.com/events/
All materials needed for your rug hooking project; you just bring your hook and scissors!
A hand stamped 207 Creatives canvas zipped tote that contains a brand new hardwood, gripper strip rug hooking frame and an assortment of other gifts.
A small surprise gift bag as a token of our appreciation that you joined us for this trip of a lifetime.

New friends, new skills, memories of a lifetime!
Only 16 spaces available! Yes, you may bring a friend, partner or spouse.
207 Creatives is a partnership of two fiber artists, Ellen Skea Marshall of Two Cats and Dog Hooking and Elizabeth Miller of Parris House Wool Works, who have joined together to bring you unique fiber events and experiences. We are, what you would call, slow makers- our craft takes time to produce. Planning, drawing, hand dyeing wool, color planning a piece, cutting the wool strips (worms), hooking it all by hand and finally the binding.
The two of us run our own shops and businesses, each offering something slightly different than one another. At the end of 2016, we decided to support each others' work by encouraging customers to consider the other shops if they were looking for something we didn't offer directly. Since then, we have worked together to develop and host hooking events to help you enjoy some fiber experiences.
Want more information or ready to sign up?
Contact us at 207creatives@gmail.com or Beth at 207-890-8490. We will send you all the pertinent information and a registration form.
We hope you'll join us for this transformative,
creative journey!