June 2019 Trip to Nova Scotia, Canada's Rug Hooking Playground
June 2019 Trip to Nova Scotia, Canada's Rug Hooking Playground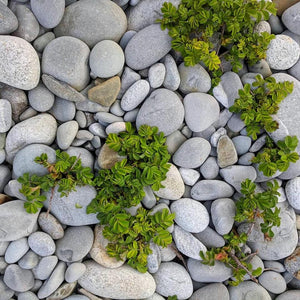 My husband, Bill, and I took another trip to Nova Scotia in early June, just for a few days to help our son James move up there. His fiancee is Nova Scotian and they are starting their lives together. I'm a wee bit envious that he'll be a permanent resident of Nova Scotia in the near future. I've thought about living there myself for reasons beyond the scope of this post.
Anyone who's seen a Nova Scotian car on the highway knows that the license plate says, "Canada's Ocean Playground." I have a lot of empathy for the people of Nova Scotia who may feel about that similarly to the way a lot of Mainers feel about our plates saying, "Vacationland." There is so much more to Nova Scotia and Maine than our superlative tourist attractions, although we do welcome the income they generate. On this particular trip to Nova Scotia (and let's face it, on many of my trips to Nova Scotia), for me the province seemed like Canada's Rug Hooking Playground.
I was headed for the South Shore, specifically, Mahone Bay and Lunenburg. Most of the fiber art studios and a rug show I visited were there, but to get in to Nova Scotia via the route we generally take from Maine, you have to drive through or past Amherst. Amherst ring a bell for anyone?
We arrived at the Deanne Fitzpatrick studio pretty late in the day, right around 4 PM. I planned to go in, browse, maybe have one of Deanne's famous oatcakes, pick up some alternative fibers for some projects I have in mind for the fall, and be on my way. It didn't quite work out that way.
It turned out that Deanne was hosting one of her amazing rug hooking spa retreats and she and the attendees were in the back area hooking. I told the lovely woman in the shop not to bother them, but she said, "Oh no! Come on back! We have a student here from Maine too." So, I went back to see Deanne and one of my own students was there! It was so fun to see her in this context, learning a whole new approach to hooking in such a wonderful environment.
We proceeded on to our Airbnb in Mahone Bay, which was still a few hours past Amherst, where Wyeth made a new friend.
The next morning we went down to Mahone Bay and got a great breakfast (the first of a couple while we were in NS) at The Biscuit Eater Cafe & Books.
Our next stop was my favorite hooking studio in Nova Scotia, Emcompassing Designs in Mahone Bay, owned by Christine Little, with whom I always love chatting. Her son, Shane, the "Dye Guy" was there as well, working his magic on some more wool, which is conveniently hung on an open roll overhead. In this arrangement the wool can just be rolled down, sliced off in yard increments, and soaked & dyed. This studio is a must see if you are in Nova Scotia on a rug hooking pilgrimage. The quality of everything is exceptional, there is a huge selection (including Christine's beautiful and never ending array of patterns), and there is a wide variety of "extras" and accessories to choose from. It is no wonder that bus loads (literally...bus loads) of fiber tourists stop here on their tours of Nova Scotia.
We went on to a very different studio in Mahone Bay, Spruce Top Rug Hooking Studio owned by an absolute icon in North American rug hooking and fiber art, Carol Harvey Clark. Spruce Top is housed in a classic Nova Scotian antique home. The first floor is filled with not only beautiful rug hooking supplies, including Carol's own patterns, but a dye kitchen and a wide selection of finished rugs created by artisans from the area. Take a foray upstairs, however, and you will find a meticulously curated museum of the history of our art. There is an extensive collection of historical artifacts related to rug hooking, each carefully explained on the display plaques. Especially if you are new to rug hooking, this is an enjoyable education in our heritage. If you are not new to rug hooking, you will love seeing the story again and the artifacts related to it. Carol is so very accomplished and so knowledgeable that I never leave Spruce Top without learning something new.
Next stop was the Heidi Wulfraat Wool Works Studio, also in Mahone Bay, where after years of admiring Heidi's work online, I finally was able to meet her. She was warm and welcoming, as were her dogs! Heidi's shop is a wonderland of fiber supplies. Fiber, tools, and accessories suitable for hooking, weaving, felting, knitting, and more are plentiful all in a bright, modern building that creates a cleanly styled backdrop for all that fibery color. Some of you may recall that Heidi used to be in New Brunswick, but when I saw she'd moved to Mahone Bay I knew her shop was going to be a necessary stop for me. As in the other shops, I picked up some cool things to bring home to Maine for future projects here.
Thus ended our day in Mahone Bay. Our next stop, the following day...my absolute favorite town in Nova Scotia...the one I love to go back to over and over again? Lunenburg.
Lunenburg is a UNESCO World Heritage Site, home of the world famous schooner Bluenose II and also happens to be the home town of my son James' fantabulous fiancee, Beth. (Yes, her name is also Beth.) So, our trip to Lunenburg served the purpose of having a nice dinner out with James, Beth, and Beth's parents and also, well...more rug hooking and fiber sites.
We went to the Knaut-Rhuland House Museum, a historic home in Lunenburg that turned out to be a great place for more fiber education. As we were making our way through the house, we encountered Anne Morison, who is a weaver, period costume creator, and fiber artist who I hope to meet again. She was demonstrating weaving at the museum and is there on a regular basis, so if you visit, seek her out. Also, as you explore room to room at the museum, notice the many antique hooked rugs on the floors.
We went next to the Fisheries Museum of the Atlantic, where I knew there was a rug show going on, organized by the Rug Hooking Guild of Nova Scotia. What I did not know was that the docent for the show that day would be Heather Gordon. I had seen and heard of Heather Gordon's work on line for quite some time, but I did not know her face. Therefore, until she introduced herself I was unaware that I was in the presence of such an accomplished rug hooker! She was incredibly welcoming and we chatted for a very long time. The rug show was wonderful and will be up at the Fisheries Museum through early October. The museum in and of itself is always worth a visit, but the rugs are icing on the cake.
You can see some of the rugs on display in the photo below, but I don't want to spoil the show by showing too many of the rest. If you can get up to Lunenburg to see it, it's so very worth the trip.
One side trip we took was out to Lockeport, to not only look at the community, which is near Shelburne where our son and his fiancee are living, but to visit Becky's Knit & Yarn Shop. This is a very small shop in a tiny seaside town, but it is packed full of beautiful yarns, including some by Briggs & Little in custom colors commissioned by Becky.
The rest of our trip was not rug hooking or fiber art related, but I'll add a few pics here anyway for those of you who might be thinking of visiting Nova Scotia's South Shore. Other places we visited were White Point Beach Resort (where we honeymooned in 1987), Ironworks Distillery (where my husband bought me some blackberry gin...), and the Ovens Natural Park. You will not be disappointed if you go.
I hope you've enjoyed this summary of my brief trip to Nova Scotia. I'll be going back in the fall, and several times a year. Nova Scotia is getting to be a second home for us. Consider a visit! You'll never forget its natural beauty and the hospitality of its people.
Happy travels and happy hooking! - Beth