Poetry as Prayer in West Paris, Maine: A Local Visit from Stuart Kestenbaum
Poetry as Prayer in West Paris, Maine: A Local Visit from Stuart Kestenbaum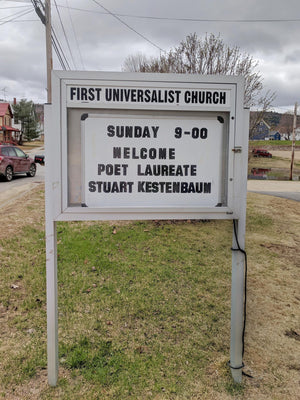 As some of you know, we have a rental property for sale in nearby West Paris, Maine. We were up there working on the house on Saturday afternoon and on our way there noticed the sign you see here, outside of the First Universalist Church of West Paris. I knew immediately we'd have to go.
Stuart Kestenbaum is the current Poet Laureate of Maine. His biography from his website states:
"Stuart Kestenbaum is the author of four collections of poems, Pilgrimage (Coyote Love Press), House of Thanksgiving (Deerbrook Editions), Prayers and Run-on Sentences (Deerbrook Editions) and Only Now (Deerbrook Editions). He has also written The View from Here (Brynmorgen Press), a book of brief essays on craft and community.
He has written and spoken widely on craft making and creativity, and his poems and writing have appeared in numerous small press publications and magazines including Tikkun, the Sun, and the Beloit Poetry Journal. He is currently serving as Maine's poet laureate and hosts Poems from Here on Maine Public Radio/Maine Public Classical
He was the director of the Haystack Mountain School of Crafts in Deer Isle, Maine for over twenty-five years, and was elected an honorary fellow of the American Craft Council in 2006."
After listening to Stuart Kestenbaum's poetry and interviews on Maine Public for many years, imagine my delight and surprise in being able to go to a live reading and meet the man himself.
Of course, he did not disappoint. His poetry was personal, moving, and filled with deep references to place that, when interspersed with traditional Universalist hymns, rituals, and readings in a century old rural Maine church created an atmosphere as reverent and holy as any in the world. With so much (deserved) focus on Notre Dame this past month, we would also be well served to remember and honor the smallest places of worship in our very own communities.
Stuart also shared himself generously, offering his own thoughts and experiences, his writing process, and so much more in personal vignettes related to the readings and to us. His work, both in his writing and in his twenty seven years as director of the Haystack Mountain School of Crafts, reflect a deep love for and awareness of the interconnections between nature, making, art, writing, craft, and living as a human on this planet. For this reason, although I was surprised to find our distinguished Poet Laureate at such a tiny venue in such a tiny village in front of, yes, a tiny audience, it also seemed so right.
You see, Universalist churches are a haven for inclusion, and Stuart's poetry and message felt as though it spoke to all of humanity even as it resonated with us, his fellow Mainers. As I approached the church in West Paris I immediately noticed its lawn sign: "Hate has no home here." Next to the front doors, literally permanently fastened to the building, is the rainbow flag, a sign that LGBTQ persons are welcomed and loved in this place of worship. These signs of inclusion are soft and welcoming, yet they are also fierce. They are fierce in their message of unconditional love and acceptance, something every major world religion teaches and yet so few of us, if we're honest, are able to live up to. People of many upbringings and traditions have found home at Universalist churches and for this reason I have always been drawn to them. They are common here in New England where progressive and free thought is both revered and, by some, reviled, and has been for centuries.
For whatever reason, however, I had never been to the First Universalist Church of West Paris. After being warmly welcomed at the door (by Will Chapman, by the way, the full time librarian and archivist for the Bethel Historical Society and part time librarian at the Sabbathday Lake Shaker Village), I was stunned by two visually overwhelming and beautiful features of this century old church.
First, the stained glass windows in this building are just breathtaking. Anyone who is an ardent admirer of stained glass should visit this church and spend some time awestruck by the craftsmanship and detail they show. Second, and of a very different nature, are two phenomenally hand-crafted works of fiber art at the back of the church. They were made by artists in Peru who used their fiber art as a means of support and were gifted to the church by a congregant. They are extremely detailed scenes of life on earth, filled with plants, animals, humans, scenes of village life, all in vibrant color using a variety of textiles and techniques. It was in the midst of this unexpected beauty and craftsmanship that the next hour of poetry, prayer, and fellowship unfolded, and it went by quickly.
At the end of a Universalist worship service, there is a ritual called the closing circle. All of us stood, held hands, and formed a circle while Stuart offered some closing thoughts. He reminded us that the context of our meeting here included world news of the terrible synagogue shooting this past week at Congregation Chabad in California and the Holy Week terrorist attacks in Sri Lanka and offered encouraging words of love and unity. As I stood there holding hands with people who were, prior to that hour, strangers, people who came from many walks of life and many religious or non-religious traditions, I wondered once again why hate gets the upper hand and creates tragedy all over the world. I don't have the answer to that. I know you don't either. But I can tell you that for one hour or so in West Paris, Maine, in one Universalist Church, with one Poet Laureate and a small group of loving and welcoming individuals, love reigned.